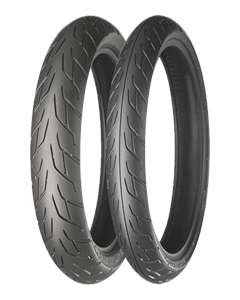 Bridgestone Battlax BT-92
---
Loaded with mono-spiral belt and DTC technologies, BATTLAX BT-92 is an all round radial tire for mid-size motorcycles with wet performance, riding comfort, and controllability.

TECHNICAL FEATURES
Compound
BATTLAX BT-92 compound is balanced to give good dry grip, high speed stability, wear life, and wet performance. DTC technology in rear tire provides both tire life and cornering grip.
Pattern
The high-angled groove in the center tread gives wet performance in straightway and high speed cruising, and the low-angled groove for wet performance in low-mid speed range. The center straight groove in front tire is for straightway stability.
Profile
The large, single crown radius for stability and linear cornering performance.
Construction
BATTLAX BT-92 uses nylon mono-spiral belt for riding comfort and stability.
<< Back to Bridgestone Tyre Range